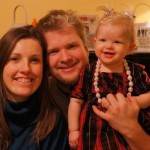 Bryan & Hélène Ost
Florida, United States
Focus:
Worship leadership | Recording artist | Evangelism
About Bryan & Hélène
Bryan and Hélène have been ministering as a pastoral couple since August 2007 in Dieppe, France. Hélène is originally from Dieppe, and Bryan, born in Mexico is a missionary child raised in Paris. They have a lovely daughter, her name is Elyana, she is just a toddler. They spend most of their time leading the church in Dieppe. They are also are in charge of a church plant thirty minutes away and are developing new ways to share the gospel to the Normandy area. Along side that, Bryan has had many open doors in the area of music as he is a singer-songwriter; once a month he goes to churches and events all over Europe to share the heart of a worshipper. Hélène has been able to translate several books and courses from English to French. Her last project was the book 'Relentless' by John Bevere.
Life is made of seasons. Whatever season God has for them, they will strive to be FAITHFUL and serve God effectively with power, in purity and in a way that is relevant, so as to reach their sphere of influence and beyond.
In July, 2014, Bryan and Helene relocated to the Tampa FL area, were Bryan is serving as a worship leader at a local congregation.