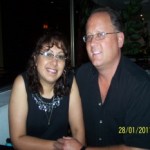 Cameron & Laura Enns
Mexico
Ministry:
Get My People Ready Now Ministries
Focus:
Local and National Leadership Formation in Mexico. Emphasis is in Evangelism, Missions Training, Pastoral Teaching and Discipleship Ministries
About Cameron & Laura
Cameron and Laura Enns are located in Mexico. Cameron is the Executive Director and Catalyst of International School of Leadership. They are founders and pastors of the Fountain of Life Christian Community in Chalco, Edo. de Mexico.
The Enns Blog

Dear friends, family and associates in Christ,
Love and hugs to you from Laura and I at the out start of a new season of ministries that has us both invigorated and very encouraged at what the Lord is doing. It has been a long time in coming, yet our labor in Jesus is never in vain. 
PRAISES AND PRAYER REQUESTS:
Fourteen received Jesus as Savior and Lord with members of our mobilized congregation in recent weeks. Five new outreach/discipleship cell groups opened recently. Twenty children from 4 to 14 continue to be trained by Laura and Martha in Kids Evangelism Explosion.  Intense discipleship groups are producing great results in our congregation. Four hundred fifty Christians signed up to begin or have already begun our Intense Discipleship/Leadership courses in seven new schools the Lord used us to establish since April. At their request, Cameron begins this Monday night intense discipleship/leadership development of twelve elders and the pastor of a dynamic congregation in Mexico City (pictured in attached slideshow worshipping in warfare garb). Cameron has not experienced a mini-seizure in over three weeks. Also, just finished sixth edition to the "Leadership Journals with Tools of the Potter" – very satisfying indeed. PRAISE GOD!!! Thank you for praying! ! !
Kids Evangelism Explosion is electrifying! This week a five year old perfectly shared the gospel with an invitation. One nine year old has already won three women to Christ!
THE LINK PROVIDED BELOW spans three States of Mexico as a quick slide show revealing lots of good things the Lord is doing with us, even as the LORD continues to confirm CODE 22 MINISTRIES – Cameron's calling to catalyze . . .
SCHOOLS OF LEADERSHIP the Lord used Cam & Joe to catalyze recently:
–90 students on Monday night with pastor Angel in small town in Veracruz
–22 students on Tuesday night with Pastor Salvador in large city of Veracruz
–70 students on Wednesday night with pastor Ruben in city of Veracruz
–30 students on Wednesday night with Pastor Javier in large city of Puebla
–200 students signed Declaration begin July 26 with Pastor Richard in Mex City.
–22 students to begin classes on July 25th with pastor Cesar in Valle de Bravo
–22 students to begin classes date tba with pastor Saul in Cuernavaca Morelos
-–20 additional pastors and congregations beginning their schools in Veracruz
PRAYER REQUESTS: Please intercede for us as the Spirit leads. Martha, one of our best and most mature leaders is being tempted to throw in the towel. Please pray for her on vacation this week to be restored.
Pray for Laura blessings on her team work with Children's Evangelism Explosion Leaders
Pray for Cam ministry focus, infrastructure professionals join CODE 22 MINISTRIES
Pray for our Father's good, perfect, acceptable will to be done in and thru your life and our lives for His supreme glory. Amen.
DECLARATION TO ARRIVE IN NEXT EMAIL . . . .
This DECLARATION I wrote in Spanish five years ago, recently fascinated a man of God, who has raised up a hundred churches. Over seven hundred Christians signed it recently. I translated it for you into English that you too might sign it with your pastor, or better yet, invite me to preach and recruit students for your next intensive discipleship/leadership school. Seriously!
Please treat yourself now to an elaborate quick slide show of CODE 22 MINISTRIES and please return here to print prayer requests and the attached Declaration.  Let us know if you add your signature to this DECLARATION and how you would like to use it in your church.
CLICK BELOW TO SEE QUICK SLIDE SHOW. SLOW IT DOWN ONCE IT HAS STARTED BY INCREASING FROM ONE SECOND PER SLIDE TO WHAT YOU LIKE:
http://picasaweb.google.com/richwhiteman43/2009ABRILAJUNIOCODE22MINISTRIESBAPTISMSANDMORE?authkey=Gv1sRgCP2-ucOs7ruRjgE#slideshow/5356537487809479650
THANK U FOR PARTNERING WITH US SEEKING GLORY FOR OUR LORD AND GOD.
In His loving Grip, by His amazing Grace and for His ultimate Glory,
Cameron & Laura Enns    
Please send support to: 
Master's Resource Commission
Get My People Ready Now Ministries
P.O. Box 4040
Seattle WA 09194