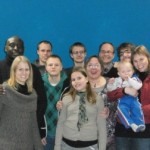 Dan & Shelby Hill
France
Ministry:
We Proclaim Him Ministries
Focus:
Church planting, pastoring
About Dan & Shelby
Dan and Shelby Hill are ministering in France. The principal focus of the ministry is pastoring a church in Montreuil, France.  Since October 2010, they have access to a new facility they co-rent that includes a large room that has place for Sunday school rooms. Together with their children, they lead all aspects of the ministry including the worship team and as teachers in the children's ministry department.
Another focus of their ministry is outreach Evangelism. Church growth doubled in 2011. Members are sharing their faith and inviting people. Youth group doubled under the care of Gabrielle and Auguste.  They are doing the work of a pastor and the youth are inviting their unsaved friends.
Dan and Shelby met at and married at Bethany School of Missions in 1985. They felt a calling to France to work with immigrant people esp Muslims. In 1992 they joined MRC. The worked with veteran pastors, Mark and Denise, in Paris from 1991-2000. During this time they were involved in ministry to the homeless, Sunday School, youth and evangelism as well as preparing their transition to the city of  Montreuil in 1993, a city they developed a burden for.  They began by setting up a stand at the public market for evangelism outreach. The church was opened formally in 2000.
A new fellowship was created with Montreuil churches. Together with other local churches, they carry out public evangelism with several independent churches which came about through Association 10000 souls!
The Hill Blog
Greetings Dear Friends!
Thank you for praying for us and blessings and transformation for all in this New Year of 2012!
There has been a change for our mission headquarters as we now have a new President. The New address is: MRC, PO BOX 4040, Seattle WA 98194-0040
All mail sent to the old address will be forwarded for awhile!
We will start the New Year off with 7 persons preparing for Baptism! Some who came to Lord durning this last year and others who are now ready to take the plunge!
Please pray for the Bible school witch takes place every Thursday night. God is maturing his people through this basic Bible training for all believers.
Please continue to pray for leadership training twice a month. We are studying some John Maxwell material. It has been extremely helpful to our leaders. We continue to see God doing some miraculous things. New couple coming, Bernabe & Ana Maria and they are excited to find a church family near by!
Pray for the Sunday School program! The Christmas program was fantastic and we had many visitors with us that day. Excellent job by Lydia & Tim and Ruth. Pray for the folks that visited us that the Holy Spirit will do his work in there hearts. We also have new teachers that are being trained and teaching.
Continue to pray for Royal Rangers this coming year! RR is a Christian scouting group that our church uses to evangelize and build up the kids. Shelby, Lydia, Timothé, John-Nathan and Zac are the leaders. Pray for them.
Pray for the Youth group which is doing very well with Gabrielle and Auguste leading. There numbers are growing! Three wo the youth are among those who will be baptised!
Pray for the evangelization this year in all it's forms! As we have gone out to win souls God has added to the church. It's His heart, not wanting anyone to perish!
And a special thanks for all those who supported us this last year! You helped us more than you can imagine. God will return to you for your seed sown in love.
Love and blessings to all,
The Hill's