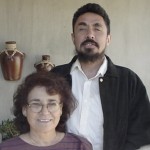 Guillermo & Victoria Aguirre
Guerrero, Mexico
Ministry:
John the Baptist of the Last Days
Website:
http://gavatotheleast.com/
Focus:
Church planting | Discipleship | Indigenous Groups
About Guillermo & Victoria
Missionaries to the Mixtecs in Guerrero, Mexico
Bill was commissioned by Trinity Church in Lubbock, Texas in 1981.When arriving in Mexico City, Bill meet Victoria Azua. She was born in Rayon, San Luis Potosi. After her sister's incredible deliverance from Voodoo witchcraft in 1975, Vicky went to work for the Faith, Hope and Love Center in Mexico City where Bill and Vicky met. They have been married since 1982 and have been full time missionaries in Mexico. The first five years they were trained personally by Bro. Danny Ost. They worked as pastors in the Faith, Hope and Love centers at one of the largest cities in the world – Mexico City. This church held services 12 hours a day, every day of the year. Bill ministered at least 5 times a week in the 70 or so weekly services. During this period of time, thousands were saved, hundreds were healed, and many were set free from Satan's grip. In 1986, they started traveling extensively as evangelists throughout the country of Mexico. The Lord led them to 11 other nations as well, regardless of the fact that Bill has been blind since the age of 13. In all of their 22 years of ministry on the mission field, Bill's blindness has never  been a handicap to carry out God's call on their lives.
For the next 5 years they held evangelistic campaigns in cities, rural towns and indigenous villages. During this time the Lord placed a strong burden on Bill for  leadership development of the church. They began to focus on teaching and encouraging Pastors and their staff.
In July of 1990, they had contact with the Gospel Recordings Representative of Mexico, Ed Young.  Immediately, they knew that the Lord had divinely put them together.
Bill was born in Artesia, New Mexico. After graduating from High School from New Mexico School for the Visually Handicapped in Alamogordo.  He attended Texas Tech University in Lubbock, Texas. He was on the Honor Roll during his whole college career and majored in languages, graduating in 1981. After giving his heart to Jesus in his junior year in High School, he was immediately prompted by the Holy Spirit to begin declaring the Good News everywhere he had the opportunity.  As a sophomore in college, he met Bro. Danny Ost and was drawn to his work in Mexico.
For it had always been on Bill's heart to work with "the least" reached that include the native indigenous population of Mexico. They immediately helped organize the first outreach to the natives in the Culiacan Project north of Mazatlan in the state of Sinaloa, Mexico. This lead to their leaving Mexico City in 1994 and moving to Tlalpa, Guerrero where they have been planting churches and training Mixteco natives to reach their own people.