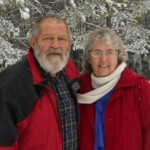 Ray & Willie Pollnow
Spain
Ministry:
SKY Ministries - Serving Kingdom Youth
Website:
http://www.asociacionreto.org/en/quienes/
Focus:
Church Planting | National Leadership Development | Drug rehabilitation and prevention programs | Self-sustaining ministry | Multi- country outreaches | Pioneers to the RETO outreach
About Ray & Willie
We have been MRC members since 1967.
From one person taken in from the street, God has saved and developed many Kingdom workers that are interested in helping others, reaching out to 30 different countries with almost all of the leadership being ex-drug addicts and trained in the center.  Some 300,000 have passed through the RETO centers.  We are grateful for God's grace.  All works are self-supporting and very communative with each other.  Anyone is welcome to leave everything and come to Spain, put on coveralls, and participate with us in supporting the hundreds of centers.  We still count everything on God's special grace.
53 years living because He lives,
dying because He died,
giving because He gave,
serving because He served,
listening because He listens,
trusting Him because He trusts us,
forgiving because He forgives.
…Finishing the race, confronting our mistakes and being grateful that He makes none.
OUR GOAL:
"To speak His language as our first language with tongues of fire.
To speak our second natural language (English) to communicate naturally, and
To speak our third language (Spanish) to reach out."
 We ask for help in our inabilities and unbelief.