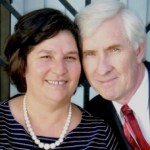 Tim & Naomi Ost
Mexico
Ministry:
Faith Hope and Love International
Focus:
Church planting, radio, evangelism, leadership development, oversight of national ministries in Mexico, Correspondence Bible School.
About Tim & Naomi
Tim was born to the late Daniel and Ruby Ost, missionaries to Mexico, in 1952.  He was born again by the Spirit of God in 1962.
He graduated from Missionary Revival Crusade's CALVARY MINISTERIAL INSTITUTE in El Carmen, Nuevo Leon, Mexico in 1972.
In April of 1973 he married Noemi Villarreal with whom the Lord has given them three children: Joy Ruby, Timothy Jesse and Naomi Beth.
He was ordained to the ministry of the Gospel in 1974 by the late Pastor Roy Johnson of the Philadelphia Church in Seattle, Washington.
His family and he are members of the Bethany World Prayer Center in Baker, LA.  Their pastor is Rev. Larry Stockstill.
After finishing Bible School in 1972 he worked with a young growing church in northern Mexico in Monclova, Coahuila.  There are now twelve churches in the area pastored by National brethren.
In 1973 they moved to Rio Verde, San Luis Potosi, 600 miles south of the Laredo, Texas border to pioneer several works there for three and a half years.
They moved to the southernmost tip of Mexico in 1976, on the Guatemala border to pioneer what is currently a growing FAITH, HOPE AND LOVE CENTER with several missions and sister churches.
In the Fall of 1977 they moved to Mexico City to assume the position of Senior Pastor at FAITH, HOPE AND LOVE CENTER #1. He also collaborated with the founding of Mexico City's CENTERS #2, #3 and #4 and have worked there until the Spring of 1984.
He is an active missionary and member of the Missionary Revival Crusade, founded by his father, and has been on the International Board of Directors since 1985.
They were also instrumental in establishing the Home Bible Studies (cells) in Mexico City's FAITH, HOPE AND LOVE CENTERS, where there are 1,800 all over the city.  He has also imparted these teachings in Colombia, Miami, Florida, Romania, France and different parts of Mexico.
He was the director of the "Living Waters" radio broadcast that aired in Mexico and Central America daily from 1984 to 2000. Many churches were planted as a direct result of the programs.  The radio listeners were followed up through the LIVING WATERS Bible Correspondence School, which is still a vital tool for follow-up at the present.
As of 2012 he and his wife Noemi are living in Mexico, City, where they are pastoring two of the largest churches in the organization as well as the general oversight of the whole work in Mexico and Nicaragua, C. A. They have assumed the responsibilities of "Faith, Hope and Love International", a branch ministry of the Missionary Revival Crusade that was founded by his father and mother.
Our family is spread out in different parts of the world. Mexico, Spain, France, Nicaragua, Morocco, etc.
 Ministry to Pilgrims
Fasting, Praying and Reading the Bible
Many of the believers come from the country side of Mexico and when they get saved; they want their friends and relatives to know about Jesus and they go to their native villages preaching the gospel that they have embraced.
We had our annual international pastors convention and we had more than 750 in attendance the second week of July.
We have homes where we bring drug addicts and alcoholics through a process of deliverance. Several of them have already gone through our Bible School and three of them are in full time ministry as pastors.
Heaven's Gates Hell's Flames